Compiled by Eric Lubbers, eric@coloradosun.com
CTO/Newsletter Wrangler, @brofax
Good morning! Hope you had a good weekend because — and I hate to break this to you — it's Monday. And in Denver, it's the first day of the first teachers' strike in 25 years (more on that in The Shortlist). But one tiny silver lining to being this far from the next weekend is that you still have four days to RSVP to come hang out with the staff of The Sun in Boulder this Friday (details here).
So while you plan your outfits for our little shindig, we should talk about the news.
Let's iron this waffle, shall we?
Attention Colorado businesses:
Underwriting positions for The Colorado Sun's newsletters are open for 2019. Get your name in front of one of the smartest, most engaged audiences in the state and support local journalism at the same time.
Email Larry Ryckman for rates and availability
.
---
The Latest from The Sun
Hazmat tankers want off the "sketchy" Loveland Pass and into I-70 tunnels, and the state could finally determine if it's even possible
"It's a sketchy road. When you're driving up that road, you're kind of thinking, 'How can they make this the hazmat route?'"
— Justin Creason, fuel trucker
"The scale, and potentially the intensity of a hazmat fire, is what is the challenge."
— Amy Ford, CDOT
Watching tractor-trailers hauling hazardous materials navigate Loveland Pass in the middle of a snowstorm can be … unsettling, and that's just as an observer. For the hazmat truckers who have to "white-knuckle" it through the twisting, two-lane, largely guardrail-free pass, every new switchback is a chance to make a costly mistake. But as Jesse Paul writes, every effort so far to get trucks through the Eisenhower/Johnson tunnels has been hit with the reality that the tunnels simply can't handle a fuel truck fire — even with the new $25 million fire-suppression system.
>> Read Jesse Paul's detailed look at the situation and how lawmakers could finally put the debate to rest.
The feds could limit fees paid by cable companies, and it has public-access channels scrambling for survival
Sweetie Marbury, Mayor of Durango, gets camera time on the city's public access channel DGOV TV. (Provided by DGOV TV)
If you've looked at your cable bill, you may have wondered what the $5 to $6 "franchise fee" is all about. As Tamara Chuang writes, that fee is charged to cable companies for the right to install cables in city streets, and it has traditionally been used by cities to pay for public-access TV. For years, cable companies have lobbied that the fees are unfair. Now the FCC has proposed a rule to limit the fees that, coupled with cord-cutters ditching cable altogether, pose an existential threat to the channels that for many are the only way to can access the goings-on of their local government.
>> Read Tamara's story, including why Aspen's revenues are going up while others are declining, here.
>> RELATED: Do you know where to watch your local government meetings? If not, check out our guide.
Jared Polis is getting hands-on with the legislature, and some lawmakers are bristling
"As a former legislator, I saw firsthand how helpful it was to have the support of President (Barack) Obama when passing the Affordable Care Act and Every Student Succeeds Act."
— Gov. Jared Polis, in a statement
"He can point the target right at me all he wants, but at the end of the day, I'm here to represent the people who elected me."
— Rep. Daneya Esgar, D-Pueblo
Jared Polis is not John Hickenlooper. I mean, we all know that's literally true, but when it comes to the relationship between the Colorado executive and legislative branches, the differences are stark. John Frank writes how the new governor's experience as a legislator in D.C. is informing his leadership style, and how lawmakers who spent the past seven years or so without much interference are dealing with the change.
>> Read the whole story, including how one lawmaker felt Polis co-opted a public hearing about the budget, here.
---
From the Opinion Page
"Neither the left nor the right has the moral high ground here. Progressive liberals who espouse "affordable housing for all," and conservatives who say they believe in "free markets" both vote against projects in and near their neighborhoods."
— Scott Cox
// In response to our project with the University of Colorado News Corps on gentrification (you can catch up on the project at coloradosun.com/gentrification), housing consultant Scott Cox argues that the convoluted process of home building, NIMBYism, tax codes and "smart growth" hypocrisies leads to both gentrification and the lack of affordable housing.
// Mario Nicolais looks at how proposed rules to make election campaign financing more transparent would be useful, but not necessarily for the average voter.
---
>> WAY TO GO, JEN!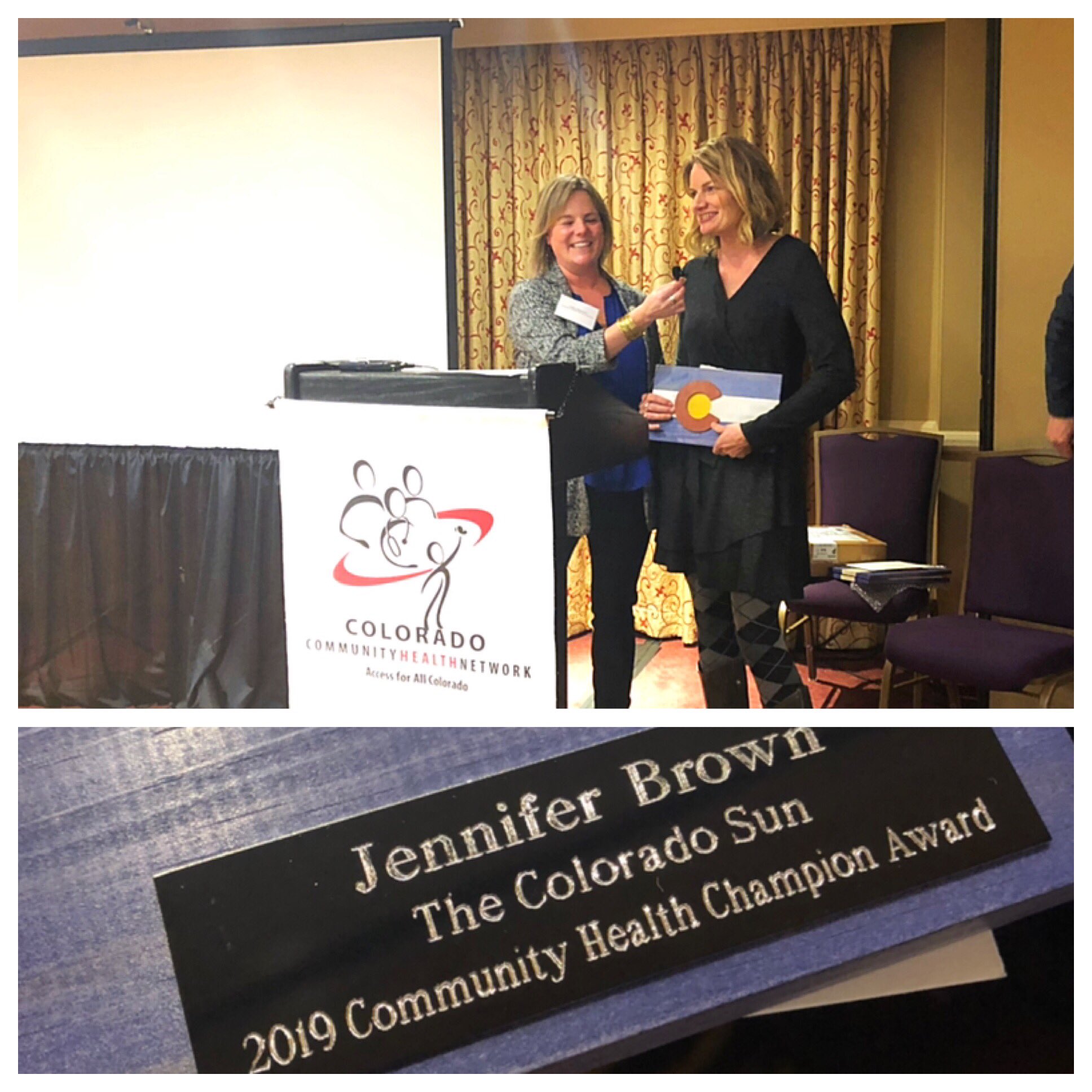 Our own Jennifer Brown was honored last week as a 2019 Community Health Champion by the Colorado Community Health Network for her reporting on mental health and public health issues (including Fort Lyon's rehab program, teen parents in lockup, teen suicide, the state's mental-health crisis system, supervised injection sites, Denver's mental health statistics and more). Read more about the award here.
---
// It's with a heavy heart we share the news that Kevin Kaufman, the longtime editor of The Boulder Daily Camera, has died at the age of 62 of complications from cancer. He was one of the good guys of local journalism, and it's hard to overstate how much he'll be missed in Boulder County and beyond. Here is the obit from, where else, The Camera. // Daily Camera
// There's no way around it: Colorado has a big problem dealing with mentally ill people facing criminal charges. The state already doesn't have enough beds, and people can wait months for treatment before they can even go to court. Allison Sherry at Colorado Public Radio breaks down a scathing report released by an independent monitor (And she has a great companion Twitter thread that gives you the SparkNotes version). // CPR News
// After 47 years, the People's Fair won't return to Denver, at least this summer. // Westword
// A 66-year-old mother in Grand Junction was so frustrated that her adult kids weren't voting, she cast her son's ballot — and was arrested on suspicion of misdemeanor voter fraud. // Grand Junction Daily Sentinel
// I'm not a tarot guy, but ever since I saw Denver artist Emi Brady's take on a tarot deck — the classic tarot, but featuring gorgeous linocuts of North American animals — hanging on the wall of Syntax Physic Opera in Denver, I've been mildly obsessed (see the photos I took teetering on a chair in between bands one night here). Stephanie Wolf has a great interview with Brady that will give you even more insight into how it came together. // CPR News
// Checking in on the Denver teachers' strike, which officially began this morning after weekend talks fell apart:
// After six years of planning, Tim Borden was ready to set a world record by launching the largest aerial fireworks shell in history from the top of Howelsen Hill in Steamboat Springs. Then this happened. // Steamboat Pilot
// Four men were arrested in Oklahoma trucking what they said was legally grown hemp from Kentucky to Colorado (the case is referenced in Nancy Lofholm's story on in the growing legitimacy of hemp in Colorado). But even after a federal test showing that their plants had less than 1 percent THC, the case is not over. // The Colorado Sun, 9News
// Tired: Instagram walls in your bar/restaurant/coffee shop. Wired: Instagrammable bathrooms in your bar/restaurant/coffee shop. // The Know
---
Today's Thing
Editor's note: This is a Special Guest Thing™ by Colorado Sun reporter Kevin Simpson. Do you have a thing that you just can't stop raving about? Email me at things@coloradosun.com and we could feature it in the newsletter! (FYI, to save you time, we probably won't feature your own business or product here, so keep it to things/experiences/recipes you're passionate about that are accessible to other people.)
The Thing: Ruffles All Dressed Potato Chips (Find a store near you with this handy map)
Why You Might Like It: As Canadian imports go, I'd rank these savory slices of snack heaven right behind Neil Young and Joni Mitchell. My son was introduced to this particular chip flavor, which ranges somewhere between barbecue and salt-and-vinegar, while he played junior hockey in a small town in Saskatchewan. He was instantly sold (though he never really warmed to poutine) and eventually introduced his parents to them. The taste description varies with the taste buds of the beholder, but in an ever-expanding field of chip flavors, this variation is reputed to be the hands-down favorite among Canadians, and one taste tells you why. Frito-Lay introduced its delicacy to the U.S. a couple years ago, and it seems to have flown largely under the radar. Not every grocery store stocks them, but they're worth pursuing. Betcha can't eat just one.
Thanks to Kevin, I know I'm going Ruffle hunting over my lunch break today. And now that you're powered up with the latest news of the day, the rest of your week is full of potential. Have a great afternoon and we'll see you on Wednesday.
— Eric